Read a great article from
Infosecurity
. A must read for CIO's, IT guys and all others. You should be informed and up to date with this. Read the full article: "
2012 Threat Predictions: An Industry Roundup
"
Breakout:
"
We asked more than 20 security companies and security experts for their threat predictions for 2012. The intent? To find what the security industry in general expects to see next year. The results are not scientific, but certainly indicative of what business can expect in 2012.
We should start with a caveat: Many of these threats should be combined. For example, social engineering threats will often be focused on social media; the 'bring your own device' (BYOD) threat is closely linked to the mobile threat; infrastructure attacks will likely use APTs, and so on. Nevertheless, the overall picture is a pretty good overview of the evolving threat landscape for 2012.
|
1: Mobile Malware
|
2: The APT
|
3: Social Engineering
|
Finally...
One last comment. Despite all the threats and warnings and predictions you'll come across over the next month, remember this:
it will be the threat that you didn't expect that gets you.
"
Overview: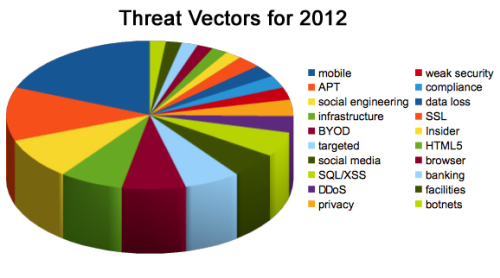 All from
Infosecurity